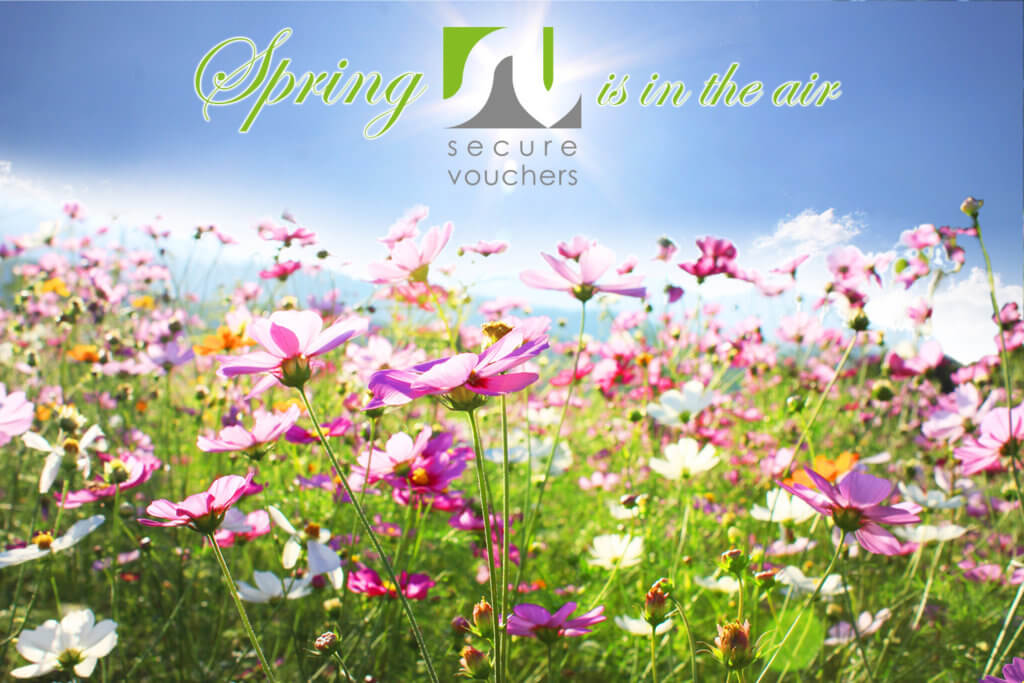 7 Ways Gift Vouchers Can Improve Your Sales This Spring
23 Mar 2021
Spring is here – with its symbolism of rebirth and renewal being particularly apt this year! Whilst not being recognised as the most important of seasons in the retail calendar, it is expected to be a lucrative time for many businesses in 2021, as they are permitted to open their doors for the first time in months. 
Vouchers have been a successful lifeline for lots of small businesses during the recent pandemic, providing additional financial support whilst being told to remain closed. As businesses start opening their doors again, vouchers will be a tried and tested technique to gain that extra revenue by ensuring customers return to your shop to redeem their gifts and spend that extra bit of cash. 
Here are some of the reasons why you should invest in quality gift vouchers to include in your sales and marketing strategy this season:
1) Improved Cash Flow 
Gift card programs will improve cash flow, especially when compared to other marketing techniques.  More traditional marketing strategies with strong demonstrated ROI tend to take time to result in sales. Selling gift vouchers allows you to generate revenue prior to providing products or services.
2) Brand Awareness
Once lockdown restrictions have lifted, many customers will be eager to go out and enjoy the restaurant dining experience once again. Make sure you stand out from the other restaurants and become memorable by selling vouchers. By selling your customised gift voucher, you are essentially promoting your business on the move. Every time the individual checks their wallet or drawer, they will see your business and be reminded of it. Your gift vouchers are therefore a free form of mobile advertising.
3) Sell Experiences
People love experiences! If COVID-19 has taught us anything, it is the importance of spending time with loved ones. Gifting a voucher for a wine tasting, a free starter, beauty treatment or hotel stay gives somebody something to look forward to.
Supplying these kinds of vouchers in your Spring strategy allows people to gift their loved ones for upcoming birthdays or other special occasions. Make sure to pick an appropriate expiry date. It is advisable to keep voucher dates long, due to the current high levels of uncertainty.
4) Shift Old Stock
By supplying item and service- specific vouchers, you will be able to bolster your revenue in areas that have previously been poor. Sell vouchers for specific goods – perhaps ones with a shorter use-by date- to ensure nothing is wasted. Setting voucher redemption for non-busy periods is another tactic to ensure sales at a time of the week or month when there is less demand. 
5) Gift Vouchers Are a Popular Gift
Gift vouchers and cards are a billion-pound industry – a five-billion- pound industry, in fact, according to the – and it continues to grow year on year. Over half of those sales are for individual stores (as opposed to generalised gift vouchers with dozens of applications). The message is clear: people love to give and receive gift vouchers as gifts, and an attractive gift voucher design can act as a highly effective branding tool.
6) Increased Customer Spending
According to the GCVA, 67.8% of respondents said that they normally spend a higher amount than the straight value of the voucher during redemption, with 96.2% of those respondents doling out up to an extra £50 upon gift card redemption, indicating a lucrative opportunity for retailers to generate revenue beyond the initial gift card sale.
7) Loyal Customers
Moreover, the GCVA have found that many consumers have developed a desire to support struggling local high streets and businesses during the pandemic, and gift vouchers and cards are a key way to do this, boosting the cash flow of these companies at a time when they may not even be able to open. 41.6% of respondents look to purchase gift vouchers with the intent of supporting companies that they like!
Summary
Gift vouchers are increasingly boasting positive benefits to retailers beyond the price of purchase and redemption. Get yours today.
Secure Vouchers
Here at Secure Vouchers we design and print professional gift vouchers for businesses across the UK. Each order we receive is bespoke and you have total control of the design through to your finished vouchers. Find out more or get started today by checking out our voucher printing service.